review
Best Bluetooth Earbuds - Sennheiser Momentum True Wireless 3 Review
Your Bluetooth earbud search is over; these are the ones!
Hot on the heels of the great time I had with the Sennheiser MKE 400 Mobile Kit I wanted to find out what all the fuss was about with Bluetooth earbuds.
Admittedly, I'm late to the Bluetooth earbud game. Perhaps the logical thing would be to look at one of the most popular buds on the market. You know, those weird white ones with the long sticks by Apple.
However, I wanted to invest in a pair of earbuds that could be used for mastering and monitoring in addition to casual listening.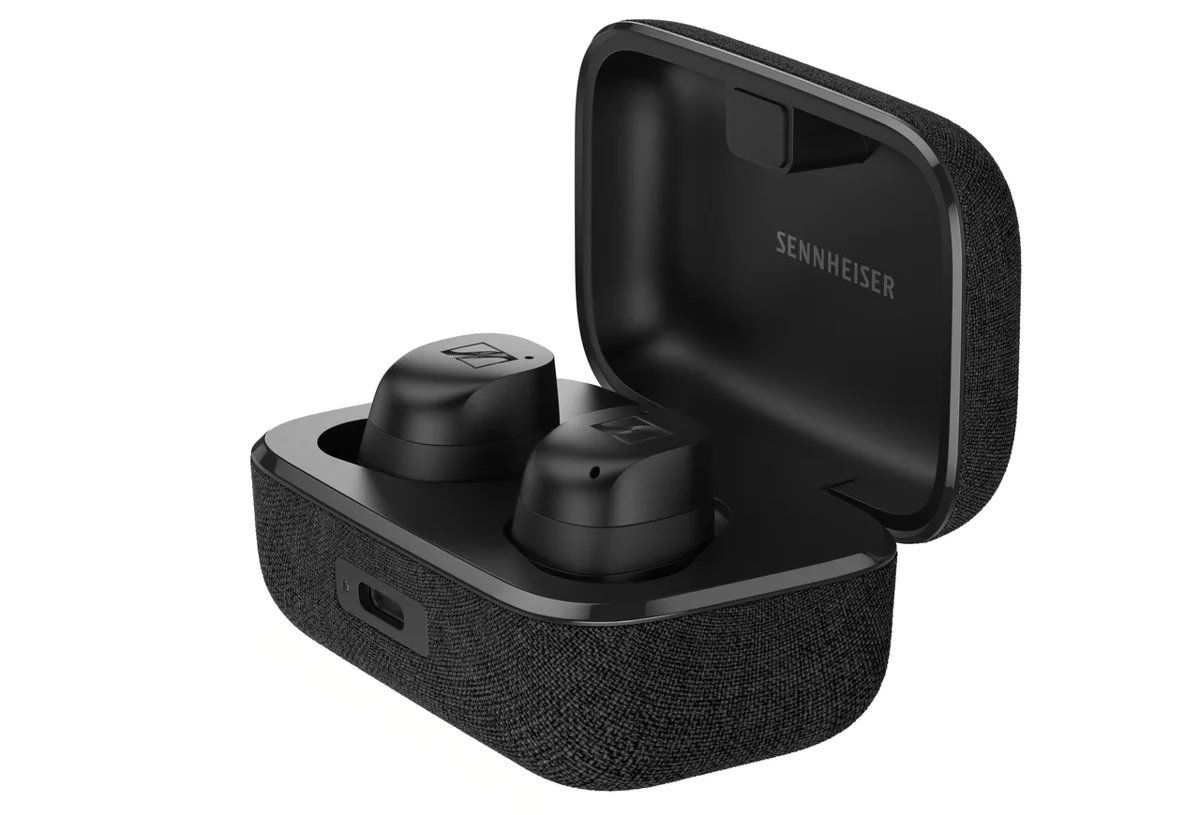 Feature Highlights
Quickly, let's go over what my personal highlights are.
Frequency response of 5 Hz to 21 kHz
Adaptive Noise Cancellation
Three advanced mics on each earbud
IPX4 splash resistance
Up to 28 hours playtime
Included
Longtime readers know that I'm a massive proponent of carrying cases; throw in a built-in charger and I'm as good as sold.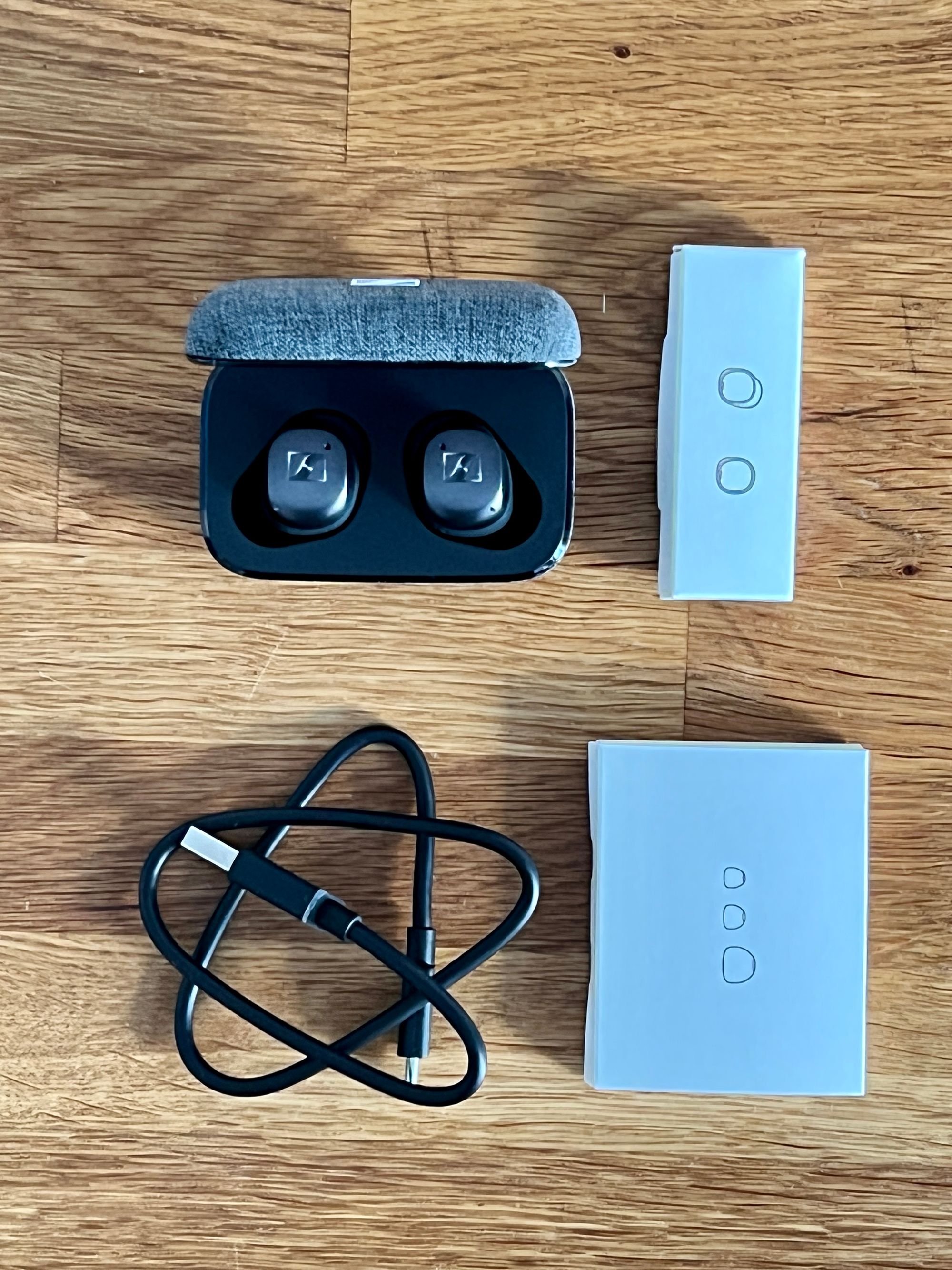 Sturdy, durable, charging case
Four silicone ear adapter sets - XS, S, M, L
Three ear fin sets - S, M, L
Why Do You Need Bluetooth Earbuds?
There are at least 3 reasons why you might need a pair of Bluetooth earbuds - professional production work, mic use, and the rest we can just call fun stuff. There's also a bonus - ear health.
Professional Work
An important part of working professionally with sound is to play it back on a variety of sources that listeners are likely to listen on. You might have a couple of pairs of speakers, test it out in your car radio, and a pair of headphones. With the rise in popularity of Bluetooth earbuds and the inherent technical implications of the technology, it's important to double check how your work sounds on them.
Beyond this, you might find the freedom to be particularly convenient. A pair of Bluetooth earbuds can be useful if you're doing field recordings (with an adapter or onto your phone).
Also, with the vast array of sound production apps available on iPhone and iPad, professional remote production is a real possibility with a pair of Bluetooth headphones as long as they do a superb job of blocking out external noise while letting you hear the true characteristics of the sound you're working with.
Microphone
What if you could simplify your computing setup and have your earbuds double as a mic? The Sennheiser True Wireless 3 has 3 built in mics (per earbud!) and are stellar for this.
This is useful if you're working remotely, doing meetings, and of course appearing as a guest on a podcast; a pair a tucked away earbuds look considerably more professional than a hefty pair of cans on your head or those weird white sticks.
Fun Stuff
I do a lot of dishwashing at home. Coincidentally, I also do a lot of cooking and cleaning. Being left with my thoughts is important from time to time but sometimes you just want to zone out, unwind, and listen to a podcast, brown noise, or other material. What better way to do it than with a pair of earbuds that actively block out noise, sound great. Not having to fiddle with wires is such a treat; I can't tell you how many times I've dropped my phone with my wired earbuds.
Ear Health
It's also useful to note that when you block out external noise using the built-in active noise cancellation (ANC) you reduce the volume required for comfortable listening. This is not only a critical part of maintaining ear health, it's also going to decrease your stress levels.
How Do They Feel?
Judging by the recent headphones reviews I've done it appears that my head is a little large. Surprisingly, my ears are standard size because these earbuds fit perfectly. They go in comfortably and have yet to pop out once or even get loose like some of my wired earbuds do.
Should you find the size not quite right there are four silicone ear adapter sets and three ear fin sets. The latter are useful if you're active, so I can't comment. 😃
The Momentum True Wireless 3 feel fresh. I mean that fully in the physical sense. They are perfectly comfortable to wear and also delightful to listen on. It's such a treat to just pop them in and put something in.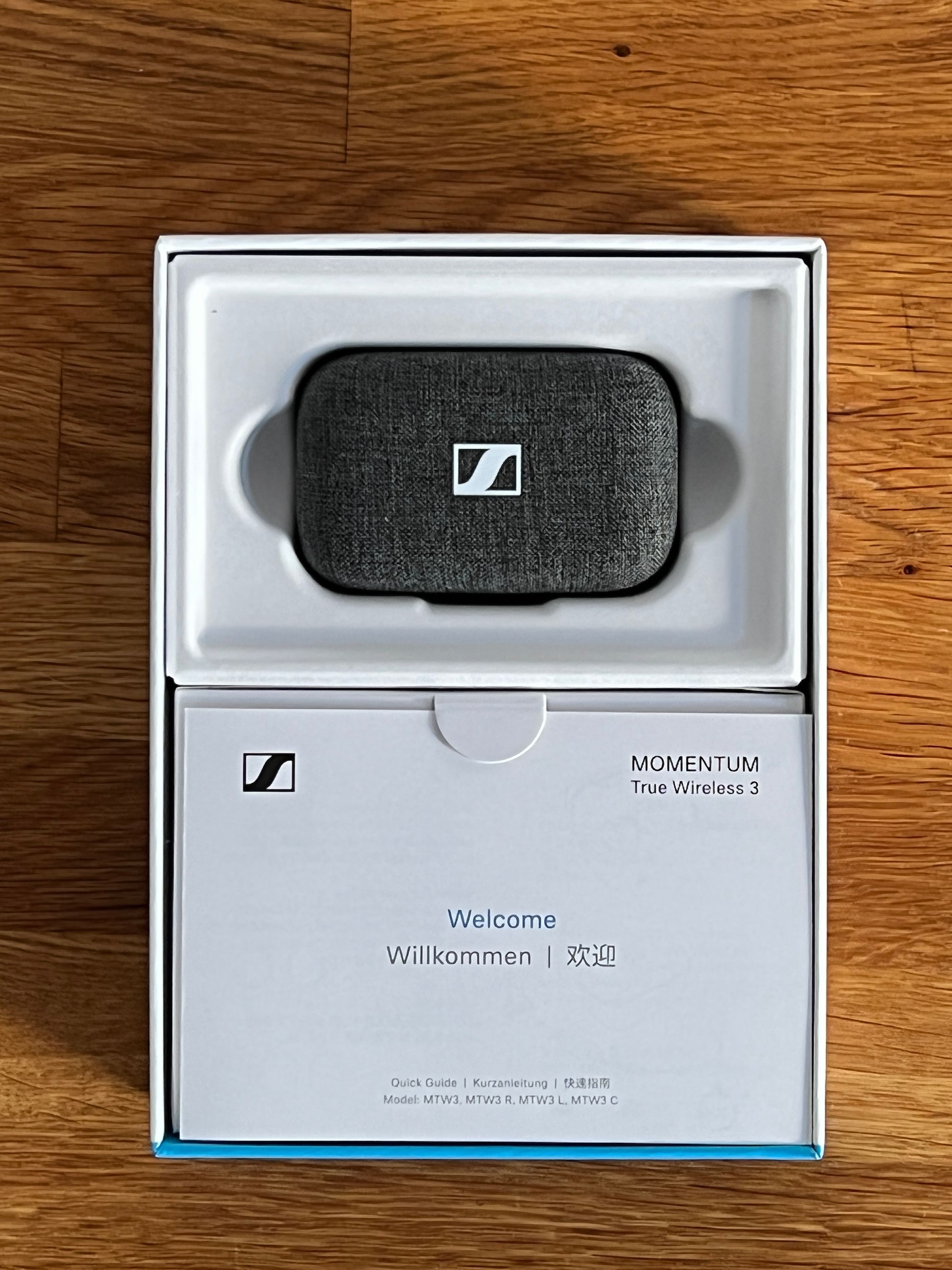 Operation
If you're new to Bluetooth earbuds like I am then it might be useful to have a quick introduction to how you "pair" them with your device(s). In the case of the Sennheiser Momentum True Wireless 3 you simply touch and hold both earbuds for 3 seconds to initiate the pairing.
Check your device's Bluetooth list to find "Momentum TW 3", tap it, and you should be hearing audio. Easy, right?
Additional Functions
To make the most of the Sennheiser Momentum True Wireless 3 it's also useful to familiarize yourself with the additional functions. There are actually quite a few such as the ability to enable or disable ANC, change volume, skip tracks, play, pause, and there's even a voice assistant.
I highly recommend looking at the online instruction manual or at least the quick guide. This might sound a bit overwhelming at first, but then you realize that this added functionality allows you to go screen and keyboard free, which is very convenient.
Charging
Charging the Sennheiser Momentum True Wireless 3 couldn't be easier. Either connect the included cable to the case (with the ear buds seated, of course) and your power source. Or if you have a wireless charging pad, just place the case on that.
Although it takes about an hour and a half to get a full charge, giving you up to 7 hours of playback time, charging for just 10 minutes gives you an hour of playback time.
How Do They Sound?
The Sennheiser Momentum True Wireless 3 sound delightfully balanced.
Everything I listen to has been an enjoyable experience. There are no pesky highs, missing lows, or overabundant mids; it's all so wonderfully even-keeled that I very quickly forget I'm wearing earbuds at all. To round out my impressions, I have not had any ear fatigue.
There are no digital artifacts, no delays resulting from what is really an incredibly complex piece of engineering.
Portability, Digital Nomads, Production Everywhere
I touched on this briefly but it's useful to draw additional attention to the topic of producing on the road. Whether you are a digital nomad creating sample packs, mixing and mastering, a content creator working on videos, or otherwise need a high quality pair of earbuds for remote work, you will be hard pressed to find something better.
From personal experience, I have these used for professional audio work, finalizing my live set on a plane (and train) while on the way to a gig (thanks ANC), working on videos (hear everything clearly), and even done meetings and calls.
Most earbuds can do all of this, but I trust the Sennheiser Momentum True Wireless 3 to give me accurate sound so I know exactly what's in the mix and I don't miss anything.
Plus, they are so compact and easy to use anywhere without taking up valuable real estate in my carry-on.
Without a doubt, I'll be taking these earbuds on tour with me this year.
Sustainability
It would be negligent of me to not point out Sennheiser's sustainability efforts. Read up on material conformity, energy efficiency, and disposal. I did not, however, see anything specific about these particular earbuds utilizing any recycled materials.
Update 9/1/2023: Sennheiser kindly sent over a one page PDF detailing the sustainability features of the Momentum True Wireless 3 earbuds, adding that they are "the greenest true wireless earbuds Sennheiser has built to date."
I've included that PDF below. To highlight:
they are highly repairable on account of spare part availability
the packaging is plastic-free
the earbuds are built to be highly durable and long-lasting (based on drop, tumbling, and battery-lifetime tests)
are IPX4 certified and splash resistant
recyclable based on Europe's WEEE directive "to contribute to sustainable production and consumption."
I was surprised and pleased to read that the company's headphones dating back from 1968 can still be repaired even today!
These Are The Ones!
As a musician of over 30 years, I don't feel the need to shop around; the Sennheiser Momentum True Wireless 3 earbuds are the ones for me. It's honestly difficult for me to imagine something better. It would be useful to know that the company was making better strides towards using more sustainable materials.
They feel great and sound fantasticly balanced, making them ideal for listening and referencing.