review
2 Sustainable Laptop Upgrades - Kingston RAM and SSD Review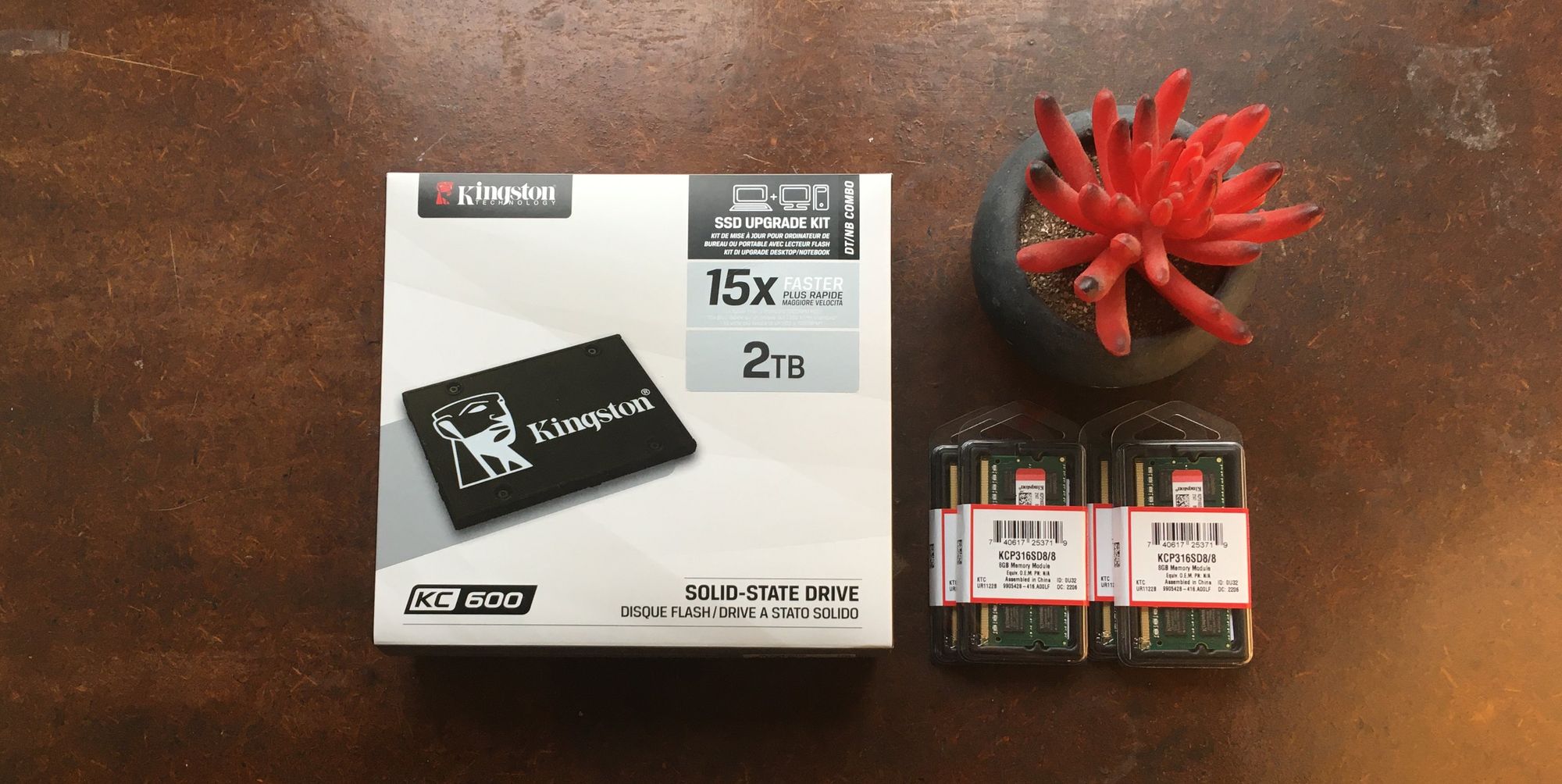 Quick take: enthusiast-revered Kingston's RAM and SSD offerings make for top-tier upgrades resulting in  option that is fast and inexpensive while offering a sustainable and cost-saving alternative to buying a new device.
New Comes At A Cost
New computers are salaciously tempting. If you catch any launch event from the last decade it takes a sizable amount of willpower to not be bamboozled by the spectacle and promise of that new device; it's clean, lean, and laden with the promise of better and faster. Usually missing from the hoopla is any mention of the environmental impact of what typically amounts to little more than a set of incremental upgrades. Fortunately, there is a better way.
Chances are high that you've got an aged but working computer already at home. Maybe it's been awhile since you've refreshed the OS, performance is sluggish and getting things done is cumbersome. Buying a brand new machine is a drastic step and one that most of us can and should try to avoid. Cost is a consideration of course, but it's also becoming increasingly impossible to ignore the effects of climate change and our role in it.
The Path of Least Resistance
Refreshing your operating system is an obvious starting point for getting extra life from your older devices, and easily the most sustainable and inexpensive.
Your first step might be to look into less resource hungry operating systems such as ElementaryOS or maybe even the bleeding edge ChromeOS Flex if you're looking for a cloud-based system.
If you're anything like me, you've probably been scarred from a past experience where you spent hours or days in command line hell trying to fix a bizarre driver issue. Although these offerings have matured exponentially in terms of compatibility, it can be a daunting task for many. It may also be the case that you require a specific program that doesn't have an adequate alternative on Linux, or perhaps you're already using some flavor of Linux and looking for even better performance.
Middleground
Somewhere in between the extremes of an operating system refresh and a brand new machine lies the upgrade route. There's a high likelihood that your hardware is the bottleneck, maybe the RAM is insufficient for what you're trying to do, or the device is so old it still has an old school hard drive instead of a speedy SSD.
In these instances, it is extreme to get rid of a perfectly functional device that could become even more usable with a few simple, inexpensive upgrades.
How Old Is Too Old?
All of these thoughts were swirling around my head as I contemplated what to do about my 9 year old laptop. Structurally it looks and feels great. This device has stories. I've made albums on it, toured with it, remixed songs, made mixes, and done all manner of sample packs and collaborations. I am not sentimental about machines, but just because it's relatively old doesn't mean it needs to be replaced.
However, for awhile now I've been noticing sluggish loading times in my work as I keep pace with quality and resolution expectations.
When I originally bought this laptop I was willing to splurge a little by getting something with an upgrade path. There was a slot for an mSATA drive and there was an option to boost the RAM to 32GB. This meant that when things got a bit sluggish many years ago I was able to see a big boost in performance by switching from a regular HD to mSATA for the drive containing the OS.
At the time, SSD's were expensive so although I was able to afford one, it wasn't particularly capacious and meant that I couldn't afford a RAM upgrade.
Time To Upgrade
My main intention behind the most recent upgrade was to max out the RAM. The market has gotten to the point where a stick of DDR3 RAM was relatively inexpensive. Even though I was forced to replace all of the RAM in my system as it had 4 x 4GB, the price is still quite cheap given the massive upgrade that this is.
It was also time to bump up the SSD from 500GB, an absolute luxury when I got it, to 2TB.
There are no shortage of RAM and SSD offerings. But I'm a firm believe in the saying that you get what you pay for.
I went with a KC600 2.5" SSD Upgrade Kit and 4 sticks of 8GB DDR3 RAM from Kingston.
KC600 2.5" SSD Upgrade Kit - SKC600B/2048G
This kit is awesome. I have to admit I was quite hesitant to embark on an SSD upgrade because I wasn't quite sure how I'd go about transfering my data over. Fortunately, Kingston provides this upgrade kit which includes an enclosure, cable, and various other accessories you might need in your particular scenario.
The enclosure is bus-powered so you literally pop in the old drive, connect it to your device, and you're off to the races. Top notch!
8GB DDR3 RAM - KCP316SD8/8
As far as I'm concerned, RAM is basically magic. I have no idea how it works, and that's totally fine with me. Doubling my RAM on the cheap is impressive by any measure.
Technically speaking this is the DDR3 1600MT/s Non-ECC Unbuffered SODIMM CL11 2RX8 1.5V 204-pin 4Gbit.
Kingston
Kingston is a household name among computer enthusiasts. The company has been around since 1987. They have their tendrils in memory, SSD's, flash drives, memory cards, readers, and even embedded scenarios. They are well respected not just because they've been around the block for awhile because they innovate and provide high quality computer components.
Sustainability
A company's awareness of its environmental resposibility is important to me. Ubiquity of parts is such that I have no qualms completely ignoring manufacturers that make no mention of their efforts to battle climate change.
Kingston has an informative page with links to various reports on sustainability, combating modern slavery, and environmental and social impact disclosures as part of the Global Reporting Initiative.
Thumbs up!
Let's Get Ready To Upgrade!
Or should I say much ado about nothing? Upgrading a decent laptop shouldn't be painful. I'm glad that the old days are bygone days; I remember spending hours watching videos and lamenting over scrupulously placing dozenes of screws in the correct place and removing mystery parts. Invariably I'd lose a few screws and my patience.
This upgrade was as painless as you could imagine - 3 screws, 3 minutes from start to boot up.
How Does It Feel?
I wasn't expecting to notice much when I first booted up so you can imagine I was a little shocked when my system was completely silent. Worried that I'd disconnected the fan I download a fan program and was able to see that it was in fact operational. Was it the RAM? A clean drive?
A few weeks in and the fan does indeed come on, but nowhere near as often as it used to. And even though my old drive was an SSD, the Kingston SSD is markedly snappier. The difference can't be significant, but when you're working with files, switching folders, and doing other standard tasks, a few hundred milliseconds are in fact perceptible..
Of course the RAM has made a difference too. Loading times are reduced when working with large files. I'm also pleased to look at loading screens less often on some of the heftier media production programs I use.
Kingston, A No Brainer
Upgrading the RAM and SSD on your laptop is a no brainer. Aside from refreshing your OS, it's the best thing you can do and should be seriously considered before buying new.
Make sure you go with a reputable brand such as Kingston so you know there's a warranty, the company has a reputable history, and is making efforts to improve their sustainability. This is not the time you want to scrimp for bottom of the barrel components from some drop shipper just to save a few bucks.
I heartily recommend Kingston's SSD and RAM offerings for fast, budget-friendly upgrades that make a significant difference.